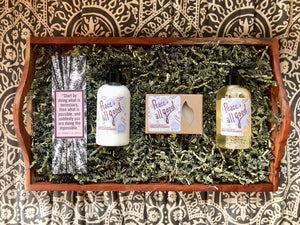 Franciscan Peacemakers provides a pathway
to sustainable, healthy, safe, and productive lives for women engaging in prostitution due to trauma, human sex trafficking or drug addiction.
The service approach of Franciscan Peacemakers includes daily outreach, a two-year residential program, meaningful employment, and advocacy work.
Connect: Street Outreach
Hospitality and outreach to women engaging in street prostitution to begin building relationships of trust. Franciscan Peacemakers Outreach van visits highly prostituted streets in Milwaukee five days a week, bringing bag lunches, hygiene products, warm clothes and empathetic presence to women on the street.
The Franciscan Peacemakers Hospitality Center provides respite and peer support for women on Lisbon Avenue for 3 hours each weekday morning.
LEARN MORE
House: Safety, Support + Healing
Clare Community is a two year program that provides housing for women who are on their journey of recovery from sexual exploitation and substance addiction. The six women who live in Clare Community are laying a solid foundation for life-long recovery, which they begin through an out-patient treatment program (usually 6 months). The residents have time in these two years to gain employment experience as well as to engage in healing various aspects of their lives: trauma care, physical, emotional and mental health, legal and relational healing.
Learn More
Employ: Meaningful, living wage jobs
Survivors are provided living wage jobs in our Social Enterprise which manufactures and sells all natural bath and body products. These products are available online and at various boutiques and stores, including our retail store located right on Lisbon Avenue in Milwaukee.
Employees who live in Clare Community save half of their income so upon completion of the program, they have money saved up for moving into independent housing. The meaningful, supportive job at the Social Enterprise creates the opportunity to both earn money while growing in confidence in job and relationships skills.
Learn More
Advocate: Educate the community
Franciscan Peacemakers staff and board provide education to Catholic parishes, school, and community groups to raise awareness about human trafficking. The sale of our bath and body products also provides an avenue for raising awareness within the larger Milwaukee community. Our team is also a part of the Anti-Human Trafficking Task Force at the County level and interfaces with several Anti-Trafficking Advocacy groups in Southeastern Wisconsin.
Learn More